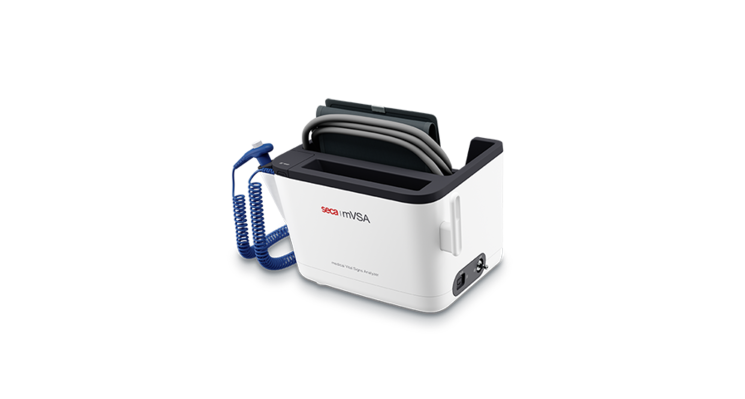 seca mVSA 526
Tuotenumero 526 1020 001
The most advanced measurement technology in the Smart Bucket with NIBP, temperature, and SpO2 measurement.
Further details

€

Request Quote

+ toimitusmaksu
Tuotteen ominaisuudet
Automatically recognizes connected modules
Able to be mounted on the stand
Does not require an additional power source
Simple removal and clean storage all of the sensors
Cable management: blood pressure, temperature, SpO2, and bioelectrical impedance analysis
Large internal memory for up to 70,000 measurements
Upgrade for the seca mBCA 525
The upgrade for the seca mBCA 525.
The Smart Bucket for the seca mBCA 525 combines the most advanced medical measurement technology with well thought-out cable management. Its processor processes the four conventional vital signs of blood pressure, SpO2, pulse rate, and temperature as well as the parameters of an entire body composition analysis consisting of fat, water, and muscle content and presents the measurement results on a separately available monitor.
Toimitus sisältää
2x Filac™ probe cover (Box á 20 pcs)
Removable SmartBucket with integrated Vital Signs Moduls: for blood pressure/Temp measurement
Filac™ temperature probes red (rectal/axillary)
seca blood pressure cuff (reusable), size M